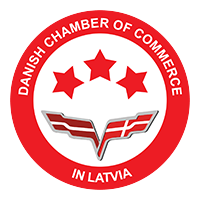 WELCOME TO THE DANISH CHAMBER OF COMMERCE IN LATVIA
News and Activities
Danish Constitution Day - June 5! We are looking forward to celebrating it in person together with all the DCCL members and other Danes living in Latvia!
Past Activities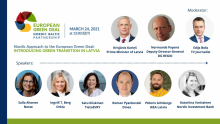 Join us on Wednesday, March 24, at 13:00 (EET) for the stage-settingNordic Baltic business forum focusing on the Nordic Approach to the European Green Deal and introducing Green transition in Latvia. Join us online to hear what the European Commission and the Latvian Government has planned to aid Economic Recovery andregional cooperation, introducing green transition, and reaching the goals set in the European Green Deal.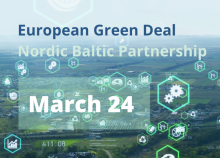 Save the date - March 24 between 13:00 and 15:30 and join us at a business forum "Nordic Approach to the European Green Deal: Introducing Green Transition in Latvia", featuring Nordic investors in Latvia that have been pioneers in sustainability and drivers of green transition. The event is organized in partnership between Danish, Finnish, Norwegian and Swedish Chambers of Commerce in Latvia with the supportof the Nordic Council of Ministerfour Nordic chambers of commerce in Latvia, which includes the Norwegian (NCCL), Swedish (SCCL), Finnish (FCCL), and Danish Chamber of Commerce in Latvia (DCCL), with the support of the Nordic Council of Ministers´ Office in Latvia, and Nordic Embassies in Latvia. More information available soon! Sponsorship opportunities available! Contact us: dcc@dcc.lv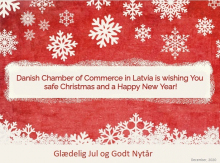 Dear DCCL Member, Because of the unfortunate COVID 19 situation there won´t be the traditional and popular Mortenaften event since personal safety is above social arrangements. However, we KEEP the TRADITION to have a MORTENSAFTEN – just in a different DUCKly style. 😊 The Board of the DCCL has made a decision that each member receives a fresh duck – and it is up to each of you to prepare it according to the best Danish traditions. On behalf of the Board, DCCL Chairman Jens Thorup wishes you a cozy and enjoyable Mortensaften! P.S. Please send pictures of your DUCK ROAST / festive Mortensaften (to DCCL Ieva dcc@dcc.lv) or share it on Facebook @DCCLatvia – and enter the competition of best cooking.