News and Activities
Past Activities
Hans Møller Rasmussen will host the members of the Danish Chamber of Commerce in Latvia in the fish processing factory in Ādaži. You'll see how salmon from the Norwegian Sea is being processed to get on our tables. You'll get a tour in the factory as well as sharing of experience in the field of investment and production.

Nordic Baltic Business Forum is hosted by the Norwegian, Swedish, Finnish and Danish Chambers of Commerce in Latvia in cooperation with the four Nordic Embassies. The conference will be arranged for the 4th time on Friday October 6 in Riga. Our target group are Nordic-Baltic companies, bringing best cases, inspiration on leadership and innovation and a high level forum for exchange of experiences and networking.

The DCCL organizes an informative seminar "Danish Defence during the Period of Refraction in relation to the current Security Policy Situation in the Baltic Countries". The topic is to be presented by Søren Frausig, Colonel, Royal Danish Air Force / Defence Attaché to Estonia, Latvia & Lithuania.
DCCL is a Member of: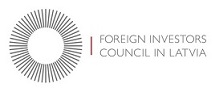 ..
Danish Institutions in Latvia:
....