Flashback
EAST BEND Company SIA in Latvia changes its name to HAUGAARD Baltic SIA

2018.06.14 09:47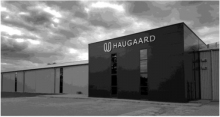 Claus Haugaard, CEO: "In order to create even more synergy and coherence in the group – and to acquire a stronger international profile – we have chosen to work under a common brand. Haugaard Company A/S and Haugaard Baltic SIA already base their work on common core values and quality systems, and the two companies collaborate closely on development and production.
An increasing number of customers are now doing business directly with the Latvian company, and HAUGAARD's profile as one of the leading manufacturers within tube bending is stronger than ever before.
A common identity is therefore a perfectly natural part of our future strategic plans – internationally. From now on, our customers will meet the HAUGAARD name, both in the East and in the West."
P.S.
As of 1 August, 2018 all email addresses will change from @eastbend.lv to @haugaard.lv.