Flashback
Nordic Go-Kart Championship 2019

2019.06.12 18:00 - 2019-06-12 21:00 Jelgava, Sports and Recreation Center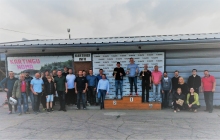 Dear DCCL Members and former participants, It is time for a sporty event! The same as last year You are hereby invited to the Nordic Go-Kart Championship in JELGAVA! The excitement and a good competition is guaranteed! However, the weather forecast is always a lottery - currently promissing excellent conditions! Let's go for a win!
Date: .. June 12, 2019
Time: ...18:00-20:00+
Venue: Sports and Recreation Centre "Rullītis"
Aku ceļš 1, Jelgava
Please register ASAP since the places for the participation are limited.
Participation fee - 45 EUR/person.
The program is like we are used to - we gather a bit before 18:00, register, then it comes warm-up, qualification and the final. Maximum participants - 30 persons and we'll be driving in two teams.
Catering will be provided - warm meal served as a buffet included in the participation fee.
Please note that even if Jelgava is "just outside Riga" it may take around 1 hour drive from Riga or even a bit longer in the rush hours. Please be in time!
Invitation for print out here.