Flashback
Joint Chamber Business Luncheon with the Prime Minister of Latvia, Mr. Krišjānis Kariņš

2019.09.18 12:00 - 2019-09-18 14:00 RadissonBlu LATVIJA Hotel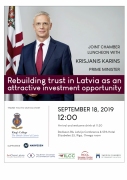 Here is an opportunity to take part in a Joint Chamber Business Luncheon with the Prime Minister of Latvia, Mr. Krišjānis Kariņš focusing on "Rebuilding Trust in Latvia as an Attractive Investment Opportunity".
Date: Wednesday, September 18, 2019
Time: 12:00 (gathering from 11:30)
Venue: Radisson Blu Latvija Conference & SPA Hotel (Elizabetes 55, Rīga)
Admission: 35 EUR for members, 55 EUR for non-members (to cover organizational expenses)
Arturs Krišjānis Kariņš (born 1964) is the Prime Minister of Latvia since January 23, 2019. Before becoming the Head of the Latvian government, Mr. Kariņš has served as the Minister of Economics and a Member of the European Parliament. Mr. Kariņš has received a bachelors degree and Ph.D in linguistics at the University of Pennsylvania. After relocating to Latvia in 1997, he established and run frozen food business. In 2002, Mr. Kariņš helped to establish New Era Party (Jaunais Laiks), which in 2011 merged with others and formed the Unity Party (Vienotiba), predecessor to the New Unity Party (Jaunā Vienotība), now part of the Latvian government.
The luncheon is organized by American, British, Irish, Norwegian and Swedish Chambers of Commerce. The Q&A session will be moderated by Mr Edijs Bošs, who has spent twenty years working for various Latvian news organizations: LNT television, newspaper Diena, public broadcaster LTV and, currently, TV3 Latvia.
Please note that due to the limited capacity of the venue, the places will be allocated on a first come, first served basis.
The deadline for registration or cancellation is 12.00 on 16 September 2019.