Flashback
"BREXIT and the Economic Implications for Latvia" by Morten Hansen

2020.02.25 18:00 - 2020-02-25 20:00 Clarion Collection Hotel Valdemars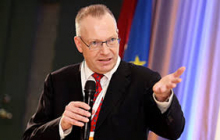 Brexit happened on 31 January. Then again, it did not since Britain is in a transition period until 31 December 2020. What can we expect from negotiations between the UK and the EU during this process? And, crucially, what will be the implications for the Latvian economy of these negotiations as well as from Brexit itself? The forecast on the topic of BREXIT is offered by Morten Hansen, Head of Economics Department, Stockholm School of Economics in Riga and Vice Chairman, Fiscal Discipline Council of Latvia.
Date & time: Tuesday, 25 February 2020 at 18:00
Venue: Clarion Collection Hotel Valdemars, Kr.Valdemara iela 23, Riga
Admission: Free for members of the organizing Chambers, 25 EUR for non-members
Registration:
Online
, by e-mail
dcc@dcc.lv
or ph (+371) 22002977
Agenda:
18:00 - 19:00 Presentation and discussion on the topic
19:00 - 20:00 Networking and buffet dinner at the downstairs restaurant (buffet costs 15 EUR + drinks, to be paid directly to the restaurant staff)
The event is organised by Danish, Finnish, Norwegian and Swedish Chambers of Commerce in Latvia. The deadline for the registration or cancellation is 12:00 on 24 February 2020.