Flashback
Traditional Danish Mortensaften

2020.11.09 10:08 - 2020-11-11 23:29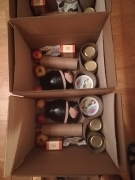 Dear DCCL Member, Because of the unfortunate COVID 19 situation there won´t be the traditional and popular Mortenaften event since personal safety is above social arrangements. However, we KEEP the TRADITION to have a MORTENSAFTEN – just in a different DUCKly style. 😊 The Board of the DCCL has made a decision that each member receives a fresh duck – and it is up to each of you to prepare it according to the best Danish traditions. On behalf of the Board, DCCL Chairman Jens Thorup wishes you a cozy and enjoyable Mortensaften! P.S. Please send pictures of your DUCK ROAST / festive Mortensaften (to DCCL Ieva dcc@dcc.lv) or share it on Facebook @DCCLatvia – and enter the competition of best cooking.
Opskrift til andesteg og brunede kartofler.
Recipes for Duck Roast and Caramelized Potatoes.
‌
‌
‌