Flashback
Ties Through Time: Denmark-Latvia

2021.08.25 13:00 - 2021-08-25 18:30 Ziedonis Hall, National Library of Latvia (Mūkusalas iela 3, Riga)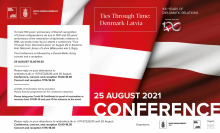 To mark 100 years' anniversary of Danish recognition of Latvian independence de iure in 1921 and 30 years' anniversary of the restoration of diplomatic relations in 1991, we kindly invite you to attend a conference "Ties Through Time: Denmark-Latvia" on 25 August in Ziedonis Hall, National Library of Latvia (Mūkusalas iela 3, Riga). The conference is followed by a Danish-Baltic string concert and reception. LV-ENG-LV translation will be provided. ! Please note that the event will be organized as Green Level Event – for guests who are fully vaccinated and/or recovered from Covid-19. Please bring your Covid-19 Certificate for proof of vaccination or recovery from COVID-19 and your ID for entrance to the event.
Please reply on your attendance to anidra@um.dk or +371 67226210 until 20 August:
Conference, concert, and reception (13.00-18.30) or Concert and reception (17.15-18.30).