Flashback
Online Discussion "Improving the Health of Latvia's Health System" with Daniels Pavļuts, Minister of Health

2021.04.29 10:00 - 2021-04-29 11:00 Online, zoom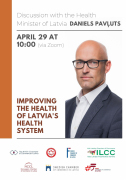 You are kindly invited to an online Discussion "Improving the Health of Latvia's Health System" with Daniels Pavļuts, Minister of Health.  The event is organised in cooperation with British, Danish, Finnish, Irish, Norwegian, Swedish, and Swiss Chambers of Commerce. The discussion will focus on the following topics - Getting to grips with COVID-19; Health system's priorities and budget in 2021 and the years to come; Health system's digital transformation.
The discussion will be moderated by Dr. Valters Bolevics, Director General of the Association of International Innovative Pharmaceuticals Producers
SPEAKER:
Mr Daniels Pavļuts was Minister for Economics from 2011-2014 and has more recently been leading the parliamentary fraction of the Development/For! Alliance.
He is also an accomplished musician, receiving his Bachelor of Arts degree in Piano Performance at the Latvian Music Academy, but his Master's in Public Administration (MPA) at Harvard University. He also teaches a course at the Stockholm School of Economics in Riga titled "Negotiation and Dispute Resolution".
REGISTRATION:
Date & time: Thursday, 29 April 2021 at 10:00
Venue: Online via Zoom
Admission: Complimentary, but registration is required
Registration here or by writing to dcc@dcc.lv
If you have any questions you would like to be addressed by the minister during the discussion, please send those in until 27 April.
Joining instructions for the online discussion will be sent on the day of the webinar directly to those who have been registered.