Flashback
Exhibition opening "Voices of Violence"

2021.12.08 19:00 Riga, ņational Library of Latvia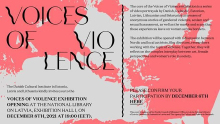 On behalf of the Danish Cultural Institute in Estonia, Latvia and Lithuania I would like to kindly invite you to the Voices of Violence exhibition opening on December 8th, 2021 at 19:00 (EET) at the National Library of Latvia, Exhibition hall I. The Nordic and Baltic countries as well as Belarus face many of the same issues when it comes to gender equality, sexism and gendered violence, and no matter where we live, gendered violence is, undeniably, a common social phenomenon. The core of the Voices of Violence exhibition is a series of video portrayals by Danish, Icelandic, Estonian, Latvian, Lithuanian and Belarusian actresses of anonymous stories of gendered violence, as well as the marks and scars that these experiences leave on women across borders. In Riga the exhibition will be displayed from 8.12 – 21.12.2021 at the National Library of Latvia.
The exhibition will be opened with a discussion between Danish-Greenlandic film director Ivalo Frank, the Latvian researcher Dr. phil. Zane Linde-Ozola, who has extensive research experience of prevention of violence against children and women and "Sexism Free Night" project coordinator Yuliya Zakolyabina. Together they will reflect on the complex interplay between art, female perspectives and women's role in society. The discussion will be moderated by the manager of the women's organization "Center MARTA" Iluta Lāce.
RSVP by December 6th here: https://ej.uz/voicesofviolenceLV
N.B. The event will be held in English and will be organized in accordance to the Latvian state regulation on the epidemiological situation in place on December 8th, 2021.