Flashback
Fund Raising Screening of the Award Winning Film "My Favorite War"

2022.03.17 18:00 - 2022-03-17 19:40 KSUNS cinema, Elizabetes iela 83/85, Riga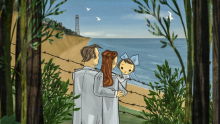 The Embassies of Denmark, Finland, Norway, Sweden and the Nordic Council of Ministers' Office in Latvia invite you to a fund raising screening of the award winning film "My Favorite War" on Thursday 17 March 2022 at 18:00 at KSUNS cinema, Elizabetes iela 83/85, Riga.
The film is an animated documentary by Ilze Burkovska Jacobsen and is based on the director's childhood memories from growing up in Cold War Soviet Latvia. It is a story from the recent past that resonates with our lives today. Before the screening, film director Ilze Burkovska Jacobsen and the Norwegian Ambassador Kristian Ødegaard will give welcoming remarks.

Sign up by March 15, 2022. More information about it here.