Flashback
Business Environment and Banking Sector Outlook in Latvia Presented by Nordea

2010.10.07 17:30 Nordea Bank, Kr.Valdemāra 62, Riga

Valdis Siksnis, Nordea Latvia General Manager will present Nordea view on above mentioned topic. This is a joint seminar for the members of the DCCL, SCC, AmCham, NCCL. The number of seats is limited. Sign up latest by October 5!
DCCL is a Member of: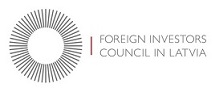 ..
Danish Institutions in Latvia:
....